Essential Blues
Red Rooster points you to blues that won't disappoint.
By category.
What Happened?

BLUES ACCESS suspended publication
as of January 2, 2002.
Read about it here.
Get Back Issues
Back issues online, and hard copies of many issues are
still available.



The liner notes to a semi-imaginary six-CD set, featuring the core songs from the world's longest-running and most beloved blues radio show, Blues From the Red Rooster Lounge.

Issue Number 46 - Summer 2001
Buckwheat Zydeco, Howlin' Wolf, Chris Thomas King (you know him from the Coen Brothers' "O Brother, Where Art Thou?"), Ruby Johnson, Eddy Clearwater, South Side Slim...

Issue Number 47 - Fall 2001
Marcia Ball, Hubert Sumlin, Trudy Lynn, Super Chikan, Jody Williams, Tutu Jones, Big Joe Williams, and a taste of Belgian photographer Jerome de Perlinghi blues photos for Liberation...

The BLUES ACCESS Message Board
Sorry, folks, but we've had to shut down the message board because it is being routinely bombed by automated spammers. Thanks for all your contributions in the past.

Those Blues Labels: Where to Find 'Em


Since 12/31/01 we are no longer updating this list of blues record labels.

.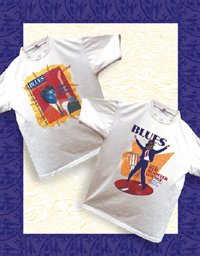 BLUES ACCESS
T-shirts



The Word: Concert Presentation
To hear a concert archive of one of the hottest Gospel groups around,
click here.



From the Webmaster
It's been my extreme pleasure to be involved with this site over the years, and it's with sadness that I see it go, but all things move on, myself included. If you know someone who needs a seasoned webmaster, please contact webmaster@bluesaccess.com