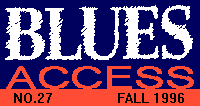 ---

Between the sheets: According to our readers' survey, Tom Ellis' continuing saga of Paul Butterfield is the most popular story we've ever run. This issue we present the third installment, relating Butter's incorporation of jazz flavorings into the band's framework. Look for the final segment in the spring.
Our Colorado homeys Andy Cleary and David Stevens (along with artist/photographer Floyd Tunson) have been indulging their fascination with the blues' natch'l homeland, down in Mississippi. Their first fruits appear here in an intimate piece on harp legend Frank Frost and his partner Sam Carr. More recent ramblings have taken them up into the hill country where they interviewed Jessie Mae Hemphill and Othar Turner, as well as R.L. Burnside and Junior Kimbrough. Stay tuned.
The third major feature comes courtesy of veteran Texas writer Tim Schuller, who has liberally proffered his talents to these pages over the years. His subject, W.C. Clark, is another gifted Lone Star journeyman who has been generous in sharing his own wealth of talent with the entire Austin blues scene.
So delve on in, dear reader. There's nourishment enough for more than one sitting.
---
BLUES ACCESS on tour: This summer we took the magazine on tour for the first time, as we set up shop at the Kansas City Blues & Jazz Festival. Leland, Jack, John and yours truly got an intensified taste of true Midwest weather while we raffled off CDs and t-shirts, signed up lots of new subscribers, ate several belliesful of ribs, appeared on Shirley Mae Owens' blues show on KKFI (support those public radio stations, folks), met hundreds of delightful blues fans and dramatically increased awareness of The Distinctive Blues Magazine. We also sweated lots. Lots.
We had so much fun we've decided to do it again at the San Francisco Blues Festival, September 28-29, this time -- hopefully -- minus the heat and humidity.
Working a festival, I discovered, is a lot different than hanging out at one. For one thing, it's hard to listen to the music when you're talking to folks all the time. Each of us got to slip away a few times, though, and one of my musical highlights was hearing Roomful of Blues put on their usual impeccably swinging set. What I remember best about it, though, is that just as the set was winding up there was a refreshing blast of cool air and someone next to me said, "Who turned on the air conditioning?" I looked around and people were gathering up their belongings under one of the blackest skies I've ever seen. I made it over to the hospitality tent as the wind began to swirl and the rain began to fall. Moments later lightning struck maybe 50 yards away, lifting us all a few inches off the ground while giving us an instant adrenaline check. Good thing, because shortly thereafter we were running out into the rain as the tent collapsed. It was, quite literally, a hair-raising experience.
---
One man done, another begun: Throughout the history of the magazine, it's been our good fortune to seemingly always have the right person come along at the right time. If we can take any credit for that, it would be in our willingness to allow serendipity to happen and do our best not to get in the way.
John Douglas and I were friends in the '60s at tiny Western Maryland College, where we both worked on the school paper, The Gold Bug. We haven't actually seen each other since 1973 when I moved out West. In fact, we hadn't even stayed in very close touch up until 1990, when he sent me a tape of music he'd been listening to. A lot of what was on that tape was early blues, so I sent him a copy of this magazine I had just started.
John's first offering in BLUES ACCESS was a profile of the singing gravedigger from Virginia, John Jackson in BA #3. In the next issue we published his short story "Staggerlee's Stickpin Blues," the first piece of fiction to appear in our pages. John was a regular reviewer for a while, before he concluded he wasn't really that interested in contemporary releases. He consolidated his effort into our reissue column, "Blue Again, New Again."
Now blues burnout has caught up to John and he's decided to forego the regular column, although he'll still be an intermittent contributor. I can't say enough for the intelligence, style and support he's provided over the past six years. To say that we got more than we paid for is downright ludicrous.
In "real life" John is an award-winning journalist and editor for a weekly newspaper in Morgantown, West Virginia. He has also written several superb novels with mysteries at their hearts, including Sbawnee Alley Fire and Blind Spring Rambler, both published by St. Martin's Press.
Fortunately for us, serendipity is still in our corner. Through a chance meeting, Leland earlier this year happened upon Wayne Robins, longtime music critic for New York's Newsday, and invited him to write about the blues. We've been impressed with the reviews that Wayne submitted for our last two issues, so it was a natural to ask him to pick up the reissue column. In his response, Wayne said, "I hope you'll let John know the column has been outstanding in every way: Sharp, vivid writing, a high (but unpretentious) level of critical discourse, just lots of enjoyable writing and good ideas. I'm honored to follow his act." So you can expect to see another class act in the reissue chair come winter.
---
This page and all contents are &copy 1996 by Blues Access, Boulder, CO, USA.