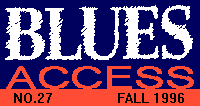 Down Home in Helena
With Frank Frost and Sam Carr
by Andrew Cody





---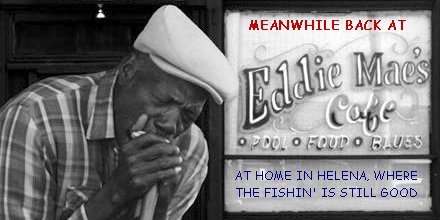 HELENA, Ark. -- Admittedly, it's hard to get used to. This is Helena, the stomping grounds of Sonny Boy Williamson II. Just walking around, you half expect to see the big fella bouncing down the street in his bowler cap and two-tone suit, twirling a cane and playing harp out of the corner of his mouth, a bit late for the King Biscuit Time program on radio station KFFA.
If you don't see the legend, well, you can feel it. This ain't the "Show Me" state, after all. During the '50s and '60s Helena was a jumpin' Mississippi River harbor town criss-crossed by countless blues legends, an incubator for what would become Chicago blues. The rich and raucous "Helena Sound" blasted out over the Delta table for 15 minutes daily on King Biscuit Time, which every Juke Joint Charlie and Charlotte from the night before knew about and never missed.
Sonny Boy, Robert Johnson, Muddy Waters, Little Walter, Howlin' Wolf, Robert Nighthawk, Robert Junior Lockwood and virtually every major blues artist in the region played Helena's two streets lined with blues bars, cafes and street blues musicians. Sonny Payne, the original King Biscuit DJ who started out with Williamson and Lockwood, has remarked many times, "Yes, the Helena jukes had great blues. But you could go down by the docks after work and hear the best, tightest blues combos in the world set up outside on a log. It was high quality music -- well rehearsed. They came right out of the fields or off the docks and played. I don't know how they did it."
Today Helena is a town with echoes in it. The modern world hasn't tampered much with the daily life. There's not even a fast-food franchise; you have to spin over to the more modern sister city West Helena to quell a Big Mac attack. The port is pretty quiet. Bubba Sullivan at Blues Corner and Morris Gist at Gist Music are amused at the steady stream of Sonny Boy-deprived Europeans, blues-starved Asians and lost-bent-note Americans who find their way to this town hounding them for blues lore and listening to those echoes.
But Helena never has the vacant air of a blues ghost town. The legends and wannabe blues stars all went North long ago, but Helena maintains an active Sonny Boy Blues Society, a nationally recognized, still wonderfully low-key King Biscuit Blues Festival every autumn, a newly dedicated Sonny Boy Williamson Concert Hall, a KFFA radio show complete with museum and blues artifacts, a fine blues record/memorabilia shop in Blues Corner and a home page on the World Wide Web.
It's also managed to keep two blues legends for itself.
Walking in Helena, the windows of an old building at 121 Missouri Street catch the eye. In one it reads Eddie Mae's Cafe; in the other, it says Home of Legendary Bluesman Frank Frost -- in bold orange and yellow boldface script. The Frank Frost of the Jelly Roll Kings?
When the sign says "home," it means it. Way in back of the oblong cafe sits the Midnight Prowler himself. "I live right back there," the lanky Frost says, gesturing to a curtained door leading to a back room, "but it's Eddie's place." Eddie, a strong, warm presence comes bustling by the table set way in the back. "That's E-d-d-i-e," she spells out. "My daddy was sure I was going to be a boy." She directs herself toward Frost. "You may as well call me your wife. I've lived right with you for years back there."
Frost, separated from his legal wife for the last eight years, laughs lustily, for him, and concedes, "Yes, I guess that's right." It's easy to tell that the frail musician is well taken care of and by whom. Frost is presently in a weakened physical state. He had fluid around his heart and had been rushed to the hospital on Tuesday night. "Doctor told me to blow no harp," Frost leans towards me as if in confidence.
On Thursday night, the eve of the King Biscuit Festival, Frost and his lifelong friend Sam Carr jammed on the steps of the Helena train depot just a couple of blocks east of here. Frost, without a mike and on keyboards only, seemed keen and lively. But after the performance he moved off, responding weakly to the well-wishers surrounding him. It seemed that there was no way Harmonica King Frank Frost would blow his Helena-style harp at his afternoon concert appearance Friday. There was talk of John Weston replacing him on the bill.
But the next day, Frank and Sam show up early for their gig. Frost's golf cap and muted plaid-lined shirt hang on him as if on a coat hanger. Carr, 10 years older than Frost at 69, offers a dramatic contrast. He is athletically built and moves with the easy grace of a man 20 to 30 years younger. He nervously taps his drumsticks together. "You want to run as it's set up," a roadie calls out to the two. "Yeah, but let me check it out," says Sam, hopping up onstage to inspect the drum kit and Frost's setup.
It's time for KFFA's Sonny Payne to introduce the band, and he mentions Frost's iffy health in a way that makes us wonder if the venerated musician will play much. Frost inches his way up onstage and sits on a folding chair, hunched over with a harp folded in his huge hands.
The first two tunes are athletic, warm-up blues shuffles, with Fred James abandoning his baby blue Strat for a rawer, crisper Telecaster sound. James is capable of flash guitar, but he reins it in out of respect for Frost. On a recent disc he produced, Deep Blues, James carefully showcases Frost yet adds his own '50s flair: It's deep blues with a streak of candy apple red.
Carr and the rest of the ensemble click along, forming a relaxed groove as Frost just sits. It's Friday, and most of the expected throng are still working or heading in this direction. Those assembled on the hill facing the stage are townies and dedicated bluesers -- blues society members from all parts of the country. Most are fond of Frost and aware of his health problems.
Then he gets up on his birdlike legs and offers a pained, gap-toothed grin. There is a hush, as if the hometown quarterback has just been sacked and is struggling to get up for the next play.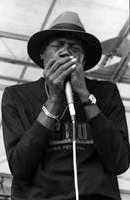 With more than a hint of showmanship, Frost grabs the mike and suddenly he is totally present, that Helena harp with its Sonny Boy-saturated phrasing and Midnight Prowler riffs that seem to come and go as they please.
"Don't ever tell me the things you do,
Keep 'em right to yourself and don't tell nobody else."
Frost's voice can only be termed superbly classic. Like his harp, Frost's vocal tone is deeply layered with no artificial aid. He is playing through the PA, using the same mike for both voice and harp -- no "fat" dispatcher mike or warm little overdriven tube amp to boost matters.
Looking at Frost's gaunt frame, I figure he's got the highest power-to-weight ratio in blues. Between songs, even during songs, he turns and peers back at Carr, who snaps an affirming look back as if sharing an inside joke that yes, they can still break off a piece of this blues thing between their fishing trips, and damned if people don't love it. The crowd is enthusiastic (if a bit relieved), and Frost feeds off of it.
Known for his encyclopedic storage of harp riffs ("He can play Sonny Boy, Little Walter or anybody without even thinking," claim the locals), Frost turns clichés inside out. His harp tone is effortless, his style fighter-like as he attacks you with a phrase, jabs, and then feints. There are none of the machine-gun riffs you hear from the younger harp players. In fact, there is nothing staccato in his style at all.
He is fond of simple, memorable figures. As in his recorded work, there is a pronounced lack of throat vibrato on held notes -- odd, particularly considering the heavy Sonny Boy II influence. He is certainly capable of the technique, but he holds several notes strong and steady as if in defiance of blues harp tradition. His style is vocal and completely devoid of horn influence. On the other hand, Frost's fluid use of dynamics is much more apparent in his live act. For the 35-minute set, Frank plays one C-harp.
When you take your focus off Frost, Carr's acclaimed drum work lays down a precise groove that any lead would find comfortable. He is not a slapper, and it is easy to tell why he's considered a studio engineer's dream. Says Blues Corner's Bubba Sullivan, "All the drummers in the Delta want to play like Sam. They study him, but they just can't seem to get the knack."
Standing there absorbing the historic Helena atmosphere saturated with the classic blues of two legends, the clear air tinged with barbecue smoke, in the company of an appreciative, savvy audience, with Frost capturing the feeling perfectly -- "Got a pocketful of money and it's all in 10-dollar bills" -- you have entered level one of blues nirvana.
After the unexpected performance, even a brief interview now seems unlikely. Frost, having agreed to it by phone the previous week, declines at first. I'm ready to write it off to Frost's ill health, when, suddenly, a buoyant Sam Carr walks up with an invitation: "Frank's place for some talk?" Frost grimly approves.
We sit down together in Eddie Mae's Cafe. The tables have been cleared for tonight's bash, and only a pool table, juke box and our table remain. Frost immediately waves off my tape recorder. When I pull out a note pad, the bluesman eyes it suspiciously. Here is a second clue to Frost's relative anonymity: He is not God's gift to self-promotion.
And I firmly jump in on the wrong foot.
"Your first recording, 'Hey, Boss Man,' for Sam Phillips, is considered a collector's item. Did you enjoy working with Sam?"
"I've got nothing good to say about Sam Phillips," Frost states with finality. After an uncomfortable pause he continues, "I never got a quarter off that album. We recorded it, and all he offered me was $800. That's all. We didn't come out with it. Then it came out later, and I didn't get paid."
"Have you got a copy?"
"Sure."
Answers are like that, very monosyllabic, until a question about Willie Foster breaks the ice.
"I've got Willie right up there," Foster gestures with a fond look up at a two-color poster on the wall announcing a Willie Foster appearance. "I started out with Willie in St. Louis in 1951. Played guitar for him. On the side I was learning from a lot of Jimmy Reed style on the harp. Willie asked me, 'Why are you always playing way up on the small end of the harp, you know, playin' the high notes?' Willie got me to play the big end, playin' low. And I credit him with starting me out on playing the harp in the right direction.
"After him, Sonny Boy taught me the most. I don't know who taught me how to bend notes. Got it just from listening. I could play pretty well by the time I met Sonny Boy. I think I play harp mostly in his style. We were close. He called me his son. I played guitar for him from 1956 to '59 all around here 'til I cut my hand on a bottle and had to quit guitar.
"And when he got back from Europe, he found me, and we played, sometimes both harps together. He kept saying, 'I'm showing you this. After I'm dead, it's up to you to carry it on.' He kept talking funny like that after he got back. I always loved Sonny Boy. He was great. Lots of people had different opinions of him. Some people were afraid of him. He treated me just like his son, and my family still calls me Sonny Man after Sonny Boy."
At the mention of harp types and brands, Frost blanches. "People are all over me about the harps. I play all kinds -- all kinds. It doesn't matter one bit. Hohner, Lee Oskar, any brand. I just go over to Gist Music and get whatever he has." For the record, on this occasion Frost is packing a Hohner Marine Band in the key of C. I look at his cigarettes. They are generic.
Frost was born April 15, 1936, in Augusta, Arkansas. "My family was all musical. My father played horn, and my mother played keyboards. No, they never got recognition. They played in church, gospel, that sort of thing." By age 15 he had joined Willie Foster's band, and in 1954 Sam Carr approached him. Carr, the son of guitar legend Robert Nighthawk, needed a front man.
"Willie didn't really need Frank," remembers Carr. "So I didn't feel bad stealing him. I played guitar like my dad and was fronting the group. At that time, I knew more guitar than Frank, and I was teaching him how to play. But I couldn't keep a drummer. It drove me crazy. So I hired Frank and had him be out front because he could handle the guitar, some keyboards and he was just starting to get on with the harp."
The hiring began a 42-year friendship. Countless blues gigs and fishing trips later, you have to wonder if they ever fight. "Only once, and I kicked his butt," Carr says, and they both laugh.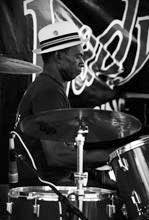 Carr is a happy, solid, comically troubled presence. All he's done is hold the whole thing together for four decades. His drumming is like his persona. You can build a bank on his sense of rhythm, rock solid, impeccable. Carr currently plays with Frost and does some session work. His father once told Carr flatly, "You'll never be able to play the drums. Why you couldn't even cool soup."
"I guess I fooled him," Carr says and continues, "Dad was touring around when I was young. Sort of like Sonny Boy, he always had his own band. No, he and Sonny Boy never played together much. They always had their own bands. They were strong personalities. Probably wouldn't have got on. So, while dad was on the road, I was raised and adopted by the Carr family. Moved in with dad at about 16. I started out on the upright bass and I learned guitar from my dad. He also said I'd never sing. He was nearly right about that one, though." Carr has sung just one studio-recorded song.
"I got on the drums 'cause I could never find no steady drummers. I had to do it. I just gave up and took the back seat." Carr shakes his head at the memory. Regardless of his back-seat position, Carr, who is fluent on guitar, bass and keyboards, has always been the boss. He owns all the band's equipment and the van that hauls it.
"I bought a Fender Rhodes keyboard with 16 speakers, and I said to Frank, 'You can make all the noise you want to with that.' He just looks at me and says, 'Who you gonna get to play that?' That's the way it is being the boss. No matter how good of friends you are, people will always resent you."
In 1962, Frost and Carr added Jack Johnson, the "Oil Man," to a band they dubbed the Jelly Roll Kings. Johnson's rugged guitar style became part of the signature sound found on their Earwig albums. Johnson has since parted ways with Frost and Carr after a misunderstanding at a King Biscuit Festival. It was perceived that Johnson took too many solos, leaving Frost in the background. Johnson even wound up insisting that Frost play keyboards only and refrain from playing harp. Johnson currently tours Europe and the U.S. with a band of his own.
Asked why the Jelly Roll Kings didn't head north to Chicago to seek their fortune like Muddy Waters and the others, Frost says one word: "Fishin'." Then he elaborates, "The livin's too hard up there. Here it's easy, slowed down, warm, and plenty of good fishin' holes." The argument is raised that Sonny Boy went to Chicago to record. "Yeah, and you see where he wound up. Right here," Frost says pointedly.
"We all play at Eddie Mae's on occasion and the festivals. What keeps us going is I know we have good talent and we need to be doing something with it. But having a band full-time is a job and a half." Nevertheless, blues has taken Frost and Carr all over the Delta, to both U.S. coasts, Europe and Australia.
During the festival Eddie Mae's Cafe is packed. Eddie Mae herself is shooing teenagers away from the door. The crowd has spilled out into the street, and you can just catch Arthur Williams hunched over his high-compression harp. Sam Carr is providing a groove and Frost is nowhere to be seen. You hope he's in bed.
I notice the sign on the levee, "Welcome to Helena: the Ridge, the River, the Romance." Then it's back in the car and off to the motel room in Brinkley, where if legend is correct, Howlin' Wolf used to send a teen-aged Harmonica King Frank Frost to the local Walgreens to buy harmonicas for him.
The echoes are back on the streets of Helena, and the simple, yet profound words of Frank Frost, the blues giant who stayed here with his friend Sam Carr because the fishin' was good, echo in my head. "I listen to everything around me and make it into blues. I played for nothing, and I made blues for nothing. You just have to do that for a long time."
---
This is an abridged version of the Frank Frost/Sam Carr article. For the complete article,
get the hard-copy version of BLUES ACCESS.
---
This page and all contents are &copy 1996 by Blues Access, Boulder, CO, USA.