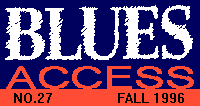 ---

Looking for artists
Capitol Records recently has released a series of blues reissues. Bonnie Raitt has been very vocal and active in the area of artists' rights, and with the help of her manager, Jeffrey Hersh, she has managed to get Capitol to "do the right thing" as far as paying royalties to many of the blues men and women (or their estates) whose music is represented on this series.
We have now come up with a short list of artists (mostly deceased) for whom we have not yet been able to track down legitimate, provable heirs or estates. If you know any family members of any of the following artists, or to whom royalties should be paid on their behalf, please contact John Ray c/o Capitol Records, 1750 N. Vine St., Hollywood, CA 90028 or phone (213) 462-6252 as soon as possible, so that Capitol can be directed to pay them the money that's presently being held for them. Note, we are not talking much money here; still, it's their money and should be given to them, however small the amount. The artists for whom heirs are sought:
Johnny Moore
Oscar Moore
Sonny Parker
Melvin "Lil Son" Jackson
Smokey Hogg
Amos Easton/Bumble Bee Slim
Albert Luandrew/Sunnyland Slim
Many thanks for any help you can give.
Mary Katherine Aldin
Hollywood, California
---
An attack in disguise
What is a record (or nowadays, CD) review? Ask most people that, and they'll tell you it's one person's thoughts on a certain recording released by a particular artist or band. Right? Well somebody needs to tell David Ranney that! His review of my new CD On the Prowl (BLUES ACCESS#26) was nothing more than a personal attack fueled by information from a former band member who was let go for personal, artistic and financial reasons.
Four of the five paragraphs comment on my needing my "head examined," "pissing it all away" and "not into sharing." One paragraph talked about how great the record was, putting me in a class of guitarists that are basically my heroes. What's wrong with this picture? OK, sure, maybe I do need my "head examined," but so does Ranney, and as far as "pissing it all away," I don't think so! I'm still out there playing with a great band of veterans who are playing the material of the record just as good as the old band if not better.
As we all know, bands change: Some people get fired, some quit music, period, and some have family conflicts which change things. If David took the time to call me (I'm in the book), he would have found this out. Also if he had taken the time to open up the CD case and looked inside, David would have seen that everybody had artistic input in the songwriting. Is that selfish? I don't think so!
As far as not having the same band on the road as I do on the record, well, then as far as David Ranney is concerned, Gary Primich, William Clarke, Mark Hummel and Otis Grand all need their "heads examined." I don't think so.
BLUES ACCESS is a great publication, and I thank it for supporting the blues and giving me an opportunity to give my opinion and feedback. David Ranney, on the other hand, needs to remember he's reviewing CDs, not being the next Geraldo Rivera. A few journalism classes at a local college wouldn't hurt, either.
Pat Boyack
Bullseye Blues recording artist
Dallas, Texas
---
Whose idea of soul?
I have been a subscriber to BLUES ACCESS for a number of years, dating back to issues in the single digits. I don't always read everything, but I was five hours on the runway at O'Hare over the Independence Day weekend, and five hours in a plane will make you do lots of things you've never done before (Who makes up those airline crossword puzzles, anyway?). I stumbled across the letter from former reader Alan Oxley (BLUES ACCESS#26), which takes your magazine to task for any number of faults, real or imagined.
My initial reaction was, "Who the @#$% does he think he is, telling you, me, us who has and who doesn't have soul?" Because he's got it wrong. Clapton has soul. Garcia did too, even if he lost it later in his career due to drug abuse. To me soul is a deep feeling for the music you're playing and the ability to express that feeling in the artist's singing/playing.
Nobody can listen to Layla (the disc, not just the song) and fail to hear Clapton's emotion pouring out of his guitar. And listen to early versions of "Dark Star" or "Morning Dew" to hear Garcia's soul ringing out from his guitar. I defy anyone to listen to Clapton's "Tears in Heaven" and not hear Clapton's soul, and a deep attempt to deal with a devastating loss. It's a blues song, even if it isn't written in conventional blues structure. Isn't that what the blues is, an attempt to deal with life's miseries? If you can sing it, it makes it better. (Of course, maybe Oxley's definition of soul is Arthur Conley).
My second reaction is, "I'm glad he's a former reader." Good riddance.
Thanks for letting me vent, keep up the good work, and I look forward to disagreeing with other parts of your Essential Blues Album List. Live, love, laugh, my friends.
Marc Wieman
marwieman@fdic.gov
---
Butter rebuttal
Please allow me to disagree with Tom Ellis III's assessment of the development of Paul Butterfield's career.
As a white college student in 1968 I credit Butterfield with defining my musical taste and introducing me to a form of music, the blues, that is a national treasure. I saw Butterfield play one week before he died. You could truly say he was a bluesman to the end -- as sad and ironic as that may be.
I believe the defining moment of Butterfield's career was that fabulous first album, The Paul Butterfield Blues Band, whose hard-driving, two-fisted punch forever changed the face of blues music in America. The rhythm section of Sam Lay and Jerome Arnold pushed Butterfield's straight-ahead style into the blues stratosphere. That Butterfield was the leader is exactly how it should have been -- just hearing him sing "Born in Chicago" brings chills to the back of my neck. He was the real thing; man, he was the blues. Just like Muddy. Just like Wolf. Not a white boy singing black music. Butter was the real deal.
East-West, another great album, sent Mike Bloomfield to the Blues Hall of Fame in the sky, and rightfully so. No one could pick a blues lick like Bloomfield. The notes seemed to cascade out of his amplifier like water. But Davenport, as Ellis points out -- a jazz drummer, so instrumental on the title track -- couldn't go straight ahead like Sam Lay, and the rest of the album suffers for it. As good as East-West is, it lacks the defining power of the first album.
Unlike Ellis, I believe that once Butterfield started becoming democratic, he went downhill. The Resurrection of Pigboy Crabshaw borrowed heavily on what Otis Rush had done in the '50s, and wasn't nearly as well done. The cover of Double Trouble and the stark, empty sound with blaring horns are all cops of Rush's Cobra work.
Yes, Butterfield was a good band leader, but he was a brilliant harp player and blues vocalist. Those who worked with him (with the exception of Bloomfield), though brilliant blues cats, were never really his peers. Yes, Muddy delegated out to his band, but his own role was never diminished by them. Butterfield had harp chops that were out of this world, and here he was backing up Gene Dinwiddie tunes. If you don't believe me, check out Paul Butterfield Live on Elektra -- or better yet, save your money and take my word for it.
We all owe Butterfield for changing the face of the blues, for helping blues to become a multi-racial music, for showing that the blues doesn't have a color. That he allowed others to step forward was generous, but leaves me wondering about what could have been.
Andy Levin
New York, New York
(Ed. note: Don't miss part three of the Butterfield story in this issue.)
---
Rediscover this!
A recent letter by Mark Fisher (BLUES ACCESS#25) motivated me to respond to his ignorant remark that African-Americans have given up their rights to the blues. Fisher was also conceited enough to "encourage" us to "rediscover" our heritage. Allow me to pose a few questions that may help Fisher realize how far his foot is in his mouth.
Mr. Fisher, which part of our heritage would you like us to focus on? The African section where we were proud people living off the land and practicing our own customs and beliefs? The two-part American pie, one in which we were a downtrodden people living through adversity, or post-emancipation in which we were free citizens living with adversity?
I surmise that Fred McDowell, Mance Lipscomb and others who enjoyed a larger audience during the blues/folk revival were happy that they were able to finally make a living playing the music they created. But what do you think they told their wives, grandchildren and front-porch friends about "museum curators" such as yourself? What do you think Huddie Ledbetter really thought of Lomax?
Have you heard of evolution? Butterfly McQueen gave up acting because of the lack of quality work. Black Americans stopped playing the roles of mammies and Uncle Toms. Did they lose the right to be actors and actress? Did Alexander Graham Bell lose his privileges to write a letter because he invented the telephone and telegraph? How many times a week do you listen to a Gershwin or Rogers & Hammerstein CD? When was the last time you popped your fingers to the beat of the smash hit Oklahoma?
Blues is a living, breathing art form that has not been allowed to freely grow and develop under its own name. It is, among other things, an oral history of black America, the rendering of the stories of life situations put to word, lyric and music. The rights can not be given or taken away like a drivers license! It is my opinion that all music created by black Americans, be it jazz, soul, R&B, funk, rap or house is blues. The categories are just marketing tools.
Black Americans not only want to create, they also want to make money in their chosen field. I don't think Koko Taylor ever considered doing a remake of "St. Louis Blues." Do you need to hear Millie Jackson, Patti LaBelle or Janet Jackson do "I Walk the Back Streets"? Or Marvin Gaye doing "Killing Floor," Stevie Wonder blowing "Juke" or M.C. Hammer doing Louis Jordan's "Saturday Night Fish Fry"? The 12-bar structure is not the only way to distinguish blues, and sewing our ancestors into patchwork quilts is not the only way to pay homage. We honor them by fighting for the betterment of our culture. We remember the past by making a stronger future.
It is sad that 400 years later, African-Americans still have to justify the use of their own language. Racism is deadly because of its tendency to be subconscious in all humans. You, gentle reader, are dangerous and a hazard to the health of humanity!
Sandra Jones
Chicago, Illinois
---
This page and all contents are &copy 1996 by Blues Access, Boulder, CO, USA.