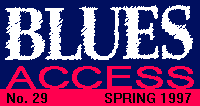 ---
Recovering
New Year's Day brought a new year, a new heart, and a new lease on life for Texas bluesman Johnny "Clyde" Copeland. The Grammy-award-winning guitarist received his long-awaited heart transplant on January 1 at New York's Columbia Presbyterian Medical Center when a donor heart was found. Copeland, 59, had been living with the assistance of an LVAD (Left Ventricular Assist Device) since May 6, 1995, when his weakened heart, a third of which had been destroyed, left him near death. For updates on his condition and the full story of his ordeal, check the BLUES ACCESS web site: http://www.bluesaccess.com.
Also glad to hear that Eddy "the Chief" Clearwater is recuperating from heart by-pass surgery in Skokie, Illinois, on January 8. Doctors played his music, including his upcoming Mean Case of the Blues, during the six-hour operation. He is spending his recuperation period working on songs for his next album.
Also recovering is Chicago legend Son Seals, who was shot in the jaw during a domestic dispute at his home January 5. At press time, Seals already was preparing to go back to work.
A benefit concert was held by the Alabama Blues Society for bluesman Jerry McCain in January. McCain's wife is ill with cancer, and he has prostate troubles and needs an operation, and they don't have much medical insurance. McCain loves to hear from his fans and friends, and it gives him a lift to know that people care about him. Send flowers, cards, etc. to: Jerry McCain, 807 N. Henry St., Gadsden, AL 35901, or call him directly at (205) 543-3833. (Donations to the Alabama Blues Society, 513, Tuscaloosa, AL 35402. Make checks out to Jerry McCain, and the society will put all the checks and money orders together and forward them to Jerry, says the society's Mike McCracken.)
---
Katie's back
Stephen Green's photo of a buoyant Katie Webster that graces our cover reminded us to check in on what the great singer, who suffered a stroke in 1992, is doing these days. "Katie's doing great," said manager and performer Vasti Jackson from his office in Hattiesburg, Mississippi. "As a matter of fact she was here in late January rehearsing for a performance at the Majestic Theatre in San Antonio on the first of February with Bobby Bland, Bennie Latimore and me."

Webster still does a good number of selected dates and is in exceptional voice, Jackson says. In the summer of 1996 she did a tour of Italy and Switzerland, along with the Ultimate Rhythm and Blues Cruise and the Jazz and Heritage Festival in New Orleans and the Jubilee Jam in Jackson, Mississippi. Webster, who lives with her daughter in League City, Texas, outside Houston, also played that city's Juneteenth celebration.

Webster leaves for an Australian tour this month and is rehearsing material for a new album on Alligator Records later this year. She'll be playing the Alley Fest in Longview, Texas, on June 7.
---
Sonny Boy I redux
On May 5, 1937, John Lee Williamson stepped onto the top floor of the Leland Hotel in Aurora, Illinois, with two guitars and a harmonica and proceeded to record several songs, including "Good Morning School Girl." He returned in November of that year and recorded some more, the first recordings for the man who would become known as Sonny Boy Williamson. (Some of those tracks, including "Schoolgirl," have just been released again as part of RCA's Bluebird reissue series.)
To commemorate that momentous occasion 60 years ago, the Fox Valley Blues Society is planning a party and inviting blues fans everywhere to join in. There will be a plaque dedicated to Sonny Boy I in the original building where he recorded and a blues festival in downtown Aurora to celebrate the occasion. It's all going to happen May 10. For more information, call Mark Baum of the society at (630) 585-3955.
---
Hooker hits the Hall
Mary Katherine Aldin writes: Legendary bluesman John Lee Hooker was given the Lifetime Achievement Award by the Blues Foundation in a ceremony/jam session held at B.B. King's Blues Club in Los Angeles November 11, 1996.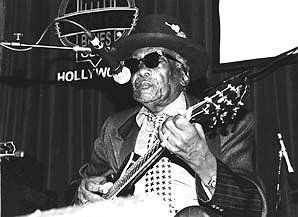 Other artists and recordings were inducted into the Blues Hall of Fame, including musicians Charles Brown and David "Honeyboy" Edwards, Delmark Records founder Bob Koester and author and Testament Records founder Pete Welding, the album Hound Dog Taylor & the Houserockers, the Sonny Boy Williamson single "Don't Start Me Talkin' " and Peter Guralnick's book, Sweet Soul Music.
The Lifetime Achievement Award was presented to Hooker by his old friend B.B. King, who also participated in the evening's musical tribute. The packed house of enthusiastic blues fans enjoyed brief solo sets by Luther Allison, Little Milton and Charlie Musselwhite, followed by a duet between Hooker and Bonnie Raitt of their hit single, "I'm in the Mood." Then Hooker resumed his seat in the audience, and Raitt was joined onstage by King, Ruth Brown, Allison, Kim Wilson, Barry Goldberg and Musselwhite for a rendition of "Never Make Your Move Too Soon," followed by a jam session that lasted until well after midnight.
---
In search of the virtual crossroads:
Anyone who's reading this knows we're interested in good blues art around here, and there's more and more to be found these days on the Net. A nice place to start is http://www.bluechicago.com. Besides a cyber-tour and information about the two popular Blue Chicago clubs in the River North entertainment district, the site includes virtual reproductions of the rich, intense paintings of South Carolinian artist John Carroll Doyle, whose work knocked out owner Gino Battaglia so much that it also graces the walls of the clubs.
And while you're there, don't miss the photos of Jeff Dunas, including his stately, sepia portraits of legendary bluesmen and his remarkable, black-and-white photos from the Delta and New Orleans. They're at http://www.dunas.com/fapage.html. Just keep clicking and you'll find a wealth of fine photography on blues and secular subjects.
Photographer Michael Bruce ( http://www.geocities.com/BourbonStreet/1654/) includes four galleries of photos from over the years -- a young Ry Cooder, a grizzled Leon Russell and the Michael Hill Blues Mob in concert among them -- along with a nice background look at how he got the photos.
If you're dreaming of crawfish in season already, drop in on http://www.neosoft.com/~offbeat/jfest/bands.html, for the up-to-the-minute line-ups for the Jazz and Heritage Festival in New Orleans. If you haven't gotten your tickets, better get cracking.
Our friend and astute blues watcher Curtis Hewston's "The Blue Highway" site is always worth a visit. Try the Delta Log ( http://www.vivanet.com/~blues/deltalog.html), an up-close-and-personal diary of Hewston's trip with a couple of friends to the Sunflower River Blues & Gospel Festival in Clarksdale, Mississippi, complete with more than 60 snaps of their pilgrimages to assorted juke joints, cemeteries, barbecue houses, historical markers, birthplaces, headstones, highway markets, penitentiaries and other points of interest for blues fans. Don't miss the rest of the site, either, with essays, history, pictures and links to other blues sites. It's an invaluable tool for finding blues on the Web.
The popular Highway 49 Blues radio program in Australia has ventured into cyberspace with a Blues of Australia web site, a Highway 49 email news bulletin targeted to radio producers and a hard-copy version of Highway 49 Blues targeted to blues societies. Check out the site: http://www.ozemail.com.au/~hwy49 for information on blues down under or write Glenn Nelson, 19, Box Hill North, Melbourne Victoria, Australia, 3129 (phone: 61-03-98990022). Another Aussie, Craig Smith ( http://www.aba.net.au/people/cs/ozblues/) also tracks Australian blues bands.
Sao Paulo, Brazil, blues fan Paul Ferrera writes: "It's very important to let the world know there are blues down here. Texas Bound, by an African musician called Nuno Mindelis, who lives in Brazil, was recorded in Austin, Texas, with the former Double Trouble bassist and drummer who played with Stevie Ray Vaughan. There is also a club in Sao Paulo, Bourbon Street Music Club, that has brought monthly visits from international names like B.B. King, Robben Ford and Buddy Guy, among others." Ferrera is looking for other blues fans in Brazil; email him at pferrera@bigfoot.com.
And although it's mostly in Spanish, there is an online magazine dedicated to Brazilian blues. "Revista Black and Blues" is at http://www.dotbr.com/Black&Blues/.
The University of Illinois at Chicago has earmarked what remains of Chicago's Maxwell Street Market for "commercial redevelopment." Hard to say if the school will respond to the pleas of us lowlifes in the blues community, but it's worth a shot. Many prominent people have written to UIC's chancellor, and you have the opportunity to add your two cents.
Much of the information about the area's historical importance, the current situation, with photos, is available here.
---
Send information for this column to ACCESS, c/o BLUES ACCESS, 340 S. 42nd, Boulder, CO 80303, fax to (303) 494-1127 or e-mail Lrucker@aol.com.
---
This page and all contents are &copy 1997 by Blues Access, Boulder, CO, USA.