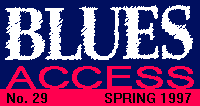 ---

Almost the skinny: Well, this was scheduled to be our annual swimsuit issue but, alas, Elle MacPherson broke a string in the middle of "Sweet Home Chicago" and stomped off-stage and out of the shoot. After an overindulgent holiday season, Catfish Whitey couldn't fit into his Speedo trunks. Katie Webster, Koko Taylor and Lady Bianca agreed to let Stephen Green photograph them, but nixed the thong bikini idea. And things just went downhill from there. Maybe next year.
Despite these disappointments, we've still got plenty to look at inside this issue, starting with a photo spread from Green's new book, Really the Blues (Woodford Publishing). Whether the objects of his eye are blues' greater- or lesser-knowns, we think his shots live up to their collective name.
What can you say about Paul Butterfield that hasn't already been said? Plenty, it would seem, judging from Tom Ellis III's fourth installment of the Butter story. Already the most popular piece we've ever run, Tom's writing continues to be engaging as he explores Paul's life in the musical enclave that sprang up around Woodstock, New York, and the rise and demise of the Better Days band. Look for the final episode of this ultimately tragic tale in our fall issue.
At last year's Kansas City Blues & Jazz Festival, John Sinclair and His Blues Scholars were listed on the program. Our marketing director's wife, the lovely Miss Vicki, inquired as to whether this was "John 'Up Against the Wall, M***** F*****' Sinclair"? Although he probably wouldn't want to have that epithet on his tombstone, he is indeed the same Ann Arbor activist who managed the MC5 and was made to pay for his revolutionary ways by being busted and jailed for two joints. (Remember the rallying cry, "Free John Sinclair"?).
These days Sinclair lives in New Orleans and is a mainstay at WWOZ radio, where he spins discs, interviews musicians and produces livecasts. He also performs his poetry (backed either by the ever-shifting Blues Scholars or Jazz Scholars, depending on the material) at local clubs and coffee houses. He's released two recent CDs, Full Moon Night and Full Circle. The former contains a live rendition of the poem we've reproduced in this issue, "Pea Vine Special." We prevailed upon Francis Pavy (who created our last two summer covers and the scratchboard drawings for David Fulmer's "Black Cat Bone" short story) to come up with artwork that heightens Sinclair's evocation of that train moving through and out of the Delta.
Smokin': A word to the Web wise: Don't forget to periodically check in at the multi-award winning BLUES ACCESS Online site (http://www.bluesaccess.com). Our "Hot Page" is constantly updated and now offers a fun and popular little feature that lets you check out blues sites at random. It's sort of a blues "Wheel of Fortune." Our main page also has links to updates on news stories, like Johnny Copeland's heart transplant and efforts to save Chicago's Maxwell Street Market. There's also a comprehensive list of every record label that's appeared in our "Where to Find 'Em" section in the past year, as well as an archive of recent issues of the magazine.
Future pace: I can remember a time (not that long ago) when we never knew what was coming up from issue to issue. Now it's difficult to find space for all the great material we have in the pipeline. Here are just a few of the stories you can look forward to later this year: features on harpman Gary Primich, Delmark Records founder Bob Koester, Bay Area guitarists Chris Cain and Alvin Youngblood Hart; a Neal family portrait (Kenny, Raful, et al); blueswomen photo gallery; Junior Wells on the road; and a look back at the original Ann Arbor Blues Festival with John Sinclair. That's in addition, of course, to all the regular columns and festival listings (including the debut of our Spring Festival Preview in this very issue).
Not forgotten: As we went to press, word arrived of the passing of two musicians of note. Jack Owens, one of the handful of blues ancients remaining down in Mississippi, succumbed to kidney disease on February 9. He was in his early 90s and lived in Skip James' home town of Bentonia. We'll have a full obituary in the summer issue.
Also in early February, New Orleans rhythm and blues pianist Edward Frank left the scene at age 64. In the early '60s he worked for Houston's legendary Duke/Peacock labels, where he backed both Bobby "Blue" Bland and Junior Parker. During New Orleans golden era of R&B, he was a regular at the famous Dew Drop Inn and was a member of the house band at Cosimo Matassa's J&M studios. Remarkably, Frank carved out a career as a session man of note despite losing the use of left hand and arm due to a ruptured blood vessel in his brain suffered when he was in his 20s. He played, arranged and composed on recent discs by Dr. John, Tommy Ridgley, Snooks Eaglin and Chuck Carbo.
Get it right: Some copy got scrambled in the "Third Coast Blues" story in BLUES ACCESS #28, p. 22 on both sides of the photo of Reese Wynans. The correct copy at the end of the first column should read: "McClinton, Kooper and Wynans all moved to Nashville with their careers in full swing," and in the second column: "McClinton expects to have a new album out in February, 1997, that he is co-producing with Gary Nicholson, one of the city's successful songwriters."
---
This page and all contents are &copy 1997 by Blues Access, Boulder, CO, USA.