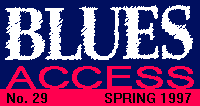 ---



---

Henry Townsend

---

Henry Townsend passes along the blues tradition to his young son's fingers.
---

Magic Slim

---

"There was a white boy living across the street and he played fiddle and it had some wires on it. I watched him and I said 'Shit,' and I tore up Mama's broom. Those brooms have that steel wire wrapped around their straws. It had a hell of a sound to it, too. And I got a whippin'. So my daddy said to me, 'Now, if you work good this year, I'll make Santa bring you a guitar.' I worked my butt off. And he had Santa bring me an acoustic guitar."
---

Tools of the Trade of
Arthur "Mississippi" Williams

---

"Blues is actually around you everyday. That's just a feeling within a person, you know. You have a hard time and things happen. Hardships between you and your wife, or maybe you and your girlfriend. Downheartedness, that is all it is: hardship. You express it through your song."
---

Willie Dixon's Funeral Procession

---
---
Somewhere in your past, the honest, expressive passion of a blues artist really got to you. Whether it was the voice, style, words or energy, it registered loud and clear. Maybe it was a legend -- seeing B.B. or Butterfield, Buddy or Koko for the first time. It might have been standing with a gathering of musicians working out at six a.m. on old Maxwell Street in Chicago, or street clarinetist Doreen Ketchens strutting her stuff down Royal Street in New Orleans. It could have been some turned-on entertainer like Albert Collins, Luther Allison or Lonnie Brooks, who began inside a club and wound up out on the street, a blues Pied Piper with a 200-foot cord or a box wireless. From that moment on you were hooked. Each of us has our moment of blues enlightenment, and we never tire of telling our story.

Really the Blues is a book of personal stories, captured in images, detailed in the artists' own prose. It is the culmination of more than five years of work in which photographer Stephen Green traveled the country -- from Chicago to the Delta, St. Louis to North Carolina, New Orleans to the San Francisco Bay Area, seeking out and meeting musicians in various clubs, streets and festivals. He was welcomed into their lives "with a warmth and openness that was humbling."

My conversations with these artists were pithy, humorous, ironic and straight from the heart. It was hard to choose which images or revealing conversations made the final edit, for there were so many mesmerizing moments and vital revelations. More than 125 artists in lavish umber-colored duotones are featured in the book. We feel that we have truly captured, in an artful and unpretentious way, the essence of the blues. The artists and the music deserve no less.

-- Mindy Giles
---
This page contains a few of the photographs taken by Stephen Green.
There are more in the hard copy edition of BLUES ACCESS,
and still more in the book Really the Blues
(Woodford Press, San Francisco, 1996).
---
This page &copy 1997 by Blues Access, Boulder, CO, USA.