Marcia Ball
Presumed Talented
By Philip Van Vleck
Marcia Ball is looking good nowadays, long legs and all, on the cover of her new Alligator album, Presumed Innocent. But, truth be told, she's looking just as good in the career moves category. After cutting seven albums for Rounder Records in 14 years, Ms. Ball culminated what she describes as "a 20-year courtship" when she signed with Bruce Iglauer at Alligator to begin the new millennium.
Marcia emphasizes that she didn't switch labels because of bad vibes. "I don't have anything bad to say about the people at Rounder," she explains. "I certainly didn't burn any bridges. I just felt like it was time for a change."
Meanwhile, in Chicago, Bruce Iglauer is very happy to have wooed Ball into the Gator's nest. "I've known Marcia for over 20 years," Iglauer says. "One of the things that's happened with her, aside from maturing as a person, is that she's also matured as an artist. She's now an artist of much greater depth than she was when I first scouted her. I tried to lure her to Alligator much earlier, in the '90s, but failed to do so.
"The other thing that's happened in the process of this transition to our label," Iglauer continues, "is that she's changed booking agents. She's with Rosebud now, one of the premier roots booking agencies in the country and one that's going to be able to bring her more overseas dates."
Iglauer sees his signing of Ball as an opportunity to take her music to a wider audience. "I think a lot of people who enjoy artists like, say, Bonnie Raitt or Lucinda Williams, have not been exposed to Marcia. If we can get enough airplay, these people who like Bonnie and like Lucinda are going to fall in love with Marcia.
"We didn't ask Marcia to change her music. We just want to market her in a broader fashion than she has been marketed previously. She has a great voice, she does wonderful songs, she's an excellent piano player and she has a very appealing stage personality."
The Ball/Alligator coalition is an example of the right artist matched to the right label at the right time, and Presumed Innocent, the first fruit of this new alliance, is quite possibly the best album of Ball's career. Co-produced by Ms. Ball and Doyle Bramhall, the record is a definitive piece of work that captures the essence of her bluesy, R&B-based repertoire. Guest artists Delbert McClinton, Gary Primich, Sonny Landreth, C.C. Adcock, Mark Kazanoff and Pat Breaux joined Ball's regular band members — Pat Boyack, Keith Robinson, Don Bennett and Brad Andrew — to provide a studio groove that places Marcia and her piano in the best possible musical situation.
Marcia credits co-producer Doyle Bramhall with creating the right environment for a great studio experience. "I knew we got along," she says, noting that Bramhall had played drums for her before. "The reason I picked him for my record was because I loved his Bird Nest on the Ground record, and I trust his taste. That proved out better than I imagined. He brought a lot of ideas and suggestions to the project, and we had a great relationship. We did it his way, and it worked. I'd work with him again, though if I didn't, don't read anything into that. I like to vary my producer experiences."
Asked why she thinks we're seeing so many drummers becoming successful producers, Ball observes: "I think that we notice because we're so shocked when it happens. You know the joke about a band being five musicians and a drummer," she laughs. "Really, maybe it's because they have such a good feel for music. I mean, you build a band around a drummer."
Ball's enthusiasm for her working relationship with Bramhall is part and parcel of her overall satisfaction with the sessions that produced Presumed Innocent. "The production process for this album was the most fun I've ever had making a record. It was smooth, and everybody we wished for and asked showed up and played. Some of them even brought songs we ended up recording, which was a cool little extra. I just worried afterward if I'd had too much fun. I ended the process wondering if the record was as good as we thought it was."
Judging by the media reaction to Presumed Innocent, Ball is probably safe in assuming that, indeed, the record is every bit as outstanding as she and her collaborators thought it was when it was mastered.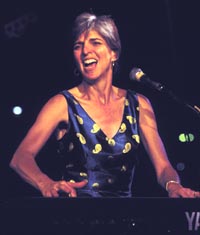 Iglauer is also delighted with Presumed Innocent, though he notes: "I would have enjoyed producing the album, but the only thing I brought to the album is the song 'I Have the Right.' I presented her with a bunch of songs, and that was the one she jumped on.
"I tell you what," Iglauer confesses, "I'm a control freak, and when Marcia told me I wouldn't be producing her album, that was not an easy thing for me to accept. But I did so for two reasons: First, I have faith in her as an artist, and second, she talked me into it. She's a very tough person, in a good sense, and she takes control of her own career. It was difficult being hands-off, however."
In talking about her new CD, Ball was especially pleased with her singing because, on her previous albums, she was never quite satisfied with her vocal work. "My biggest problem with recording in the studio has always been the dry monitor sound," she explains, "the headphone sound that isn't at all like singing in a room. I sing best when I can hear my voice bouncing off the back wall. I don't use monitors on stage, if I can help it. I want to turn off the monitor and hear the room. Monitor guys think I'm crazy, but that's the way I like to hear myself.
"So, this time, we started experimenting. A friend of mine here in Austin, Karen Kraft, once recorded with Clyde Otis, the guy who produced Dinah Washington — in fact, I think he was married to her, back in the day. They did something like what we tried. They were recording in the same studio where we made my record. Now, in Karen's time, this recording studio was part of an entertainment complex that included a big ballroom. They set her up in that big room, and somehow they recorded the sound of her voice in the room and mixed it with the regular vocal track."
Ball points out that engineers do this now with drums, for instance, putting the drummer in a big room and miking the room to get the ambiance. What worked for Marcia was being close-miked and also recorded by a second mic in the room placed at some distance from her. Then they mixed both mics in her headphones while recording her vocal straight to the hard drive from the close mic.
"I was hearing more of what I like to hear," she says. "That way I don't shout, and I don't try to compensate for frequencies I'm not hearing because of that dry headphone sound. And, honestly, I've always had a pet peeve about the way they mike vocals. Engineers will spend all day getting the drum sound, and getting the bass sound, and getting the guitar sound, and then they just walk in, put a mic in front of you and say, 'Sing.' So I fought back."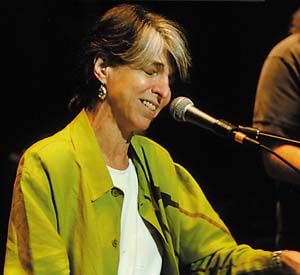 With the production experience behind her and Presumed Innocent in the hands of the media and the public, Ball is beginning to get a feel for how the record is being received. "The response has been very good. We're getting airplay all over the country. We got picked up by some of the plum stations we were hoping to get, and that's led to other stations picking up on the album. The album is selling well, too, I'm pleased to say. And then, I'm getting a good personal response, too — though not many of my friends are gonna come up to me and say, 'Heard your new record. It sucks.' Some of them would, but they haven't."
Iglauer and his crew at Alligator have ensured that Ball will chalk up a lot of miles touring in support of the new album. "Oh God! We've been everywhere," Marcia enthuses, "and if we haven't been there, we will be. We've literally played from Vancouver to Rockland, Maine, and we've had lots of fun gigs, too. We're not through yet. We may well be at this until Thanksgiving."
Getting out and touring behind the new album has given Ball a chance to evaluate the songs in performance. As is the case with almost all albums, the material has one life in the studio and a second, different, life on stage. Audience reaction is an acid test that good songs pass, and now that Ball has taken Presumed Innocent on the road, she has enjoyed a couple of pleasant surprises.
"The song 'Thibodeaux, Louisiana' is one of those surprises," she explains. "First of all, Doyle wrote that song. I teased him that the only reason he did the album with me was so that I would record that song. He's been trying to get me to record it for a long time. When we cut it, it was just kind of a mess. I kept putting it off. Doyle was adamant that we record it, and I wasn't so sure.
"So we went round and round. We experimented and did some stuff with it. At one point, after we recorded the track, Doyle and C.C. Adcock went back and did the intro, and they wouldn't even let me hear it for a while, because it was so weird. And then I thought Bruce would hate the song. It's almost country, and it's got that weird intro. We had 15 songs recorded for the album, so I knew we were gonna lose a couple. I figured Bruce would drop it.
"And then we put out the record, and a lot of radio stations picked up that song," she laughs. "And when we play it live, people love it. My measure of a song is when you play it live and at the end you get 'Whoooo!' from the crowd. A round of applause is one thing, but a big 'Whoooo!' means it's workin'. 'Thibodeaux' gets that 'Whoooo!' every time. And to think that rascal almost didn't make the cut."
"People like 'She's So Innocent' too," Marcia adds. "I was hoping for that. It's the most unusual song we did on the whole record. Nobody's writing songs like that anymore. It sounds like an old torch song — I knew that when I wrote it, and I'm thrilled with it. The songcraft of this tune is something I'm prouder of than almost anything I've ever written."
Ball notes that "Louella" is another crowd favorite. "That song is more traditionally my style. A lot of radio programmers are playing 'Louella,' and that's personally gratifying, because it's catching their ear on the strength of that boogie piano intro, and that's not a mainstream thing. It is, however, my thing, so it goes to show that you never can tell what will perk up someone's ears."