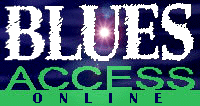 ---
The Essential Blues Album List
CLASSIC CHICAGO BLUES
---
1. Muddy Waters
The Godfather of modern Chicago blues, Muddy came up from Stovall's Plantation in Mississippi to the Windy City in the late 1940s, plugged in and turned the blues world on its ear. His bands featured a roster that reads like a "Who's Who of Chicago Blues": Little Walter, Otis Spann, both Luther Johnson, James Cotton, Jr. Wells, Sammy Lawhorn, Walter Horton, Jimmy Rogers, Pat Hare, Francis Clay, to name a few. Muddy Waters: The Chess Box (MCA) contains the cream of his 25-year association with the great Chicago indie label, Chess Records. His '70s discs produced by Johnny Winter are also well worth listening to, but for pure feral mojo, nothing compares to what he did for Chess in the '50s and early '60s.
On any list involving the blues, his name belongs at the top. Now that was a man!
---
2. Howlin' Wolf
This great gravel-voiced giant (nee Chester Burnett) moved from Memphis to Chicago and scored big with his larger-than-life-persona. Like Muddy (his main rival), most of Wolf's best songs were authored by Willie Dixon: "Red Rooster," "Spoonful," "Back Door Man," "Evil" and "Built for Comfort." You'll find the essentials on Howlin' Wolf: The Chess Box (MCA), but The London Howlin' Wolf Sessions (MCA), with Eric Clapton and Stevie Winwood sitting in, is probably his most popular disc. Check out Rides Again (Flair/Virgin) for a good sampling of his pre-Chicago work.
---
3. Willie Dixon
Not content to be merely the greatest songwriter in the history of the blues (and, by extension, rock'n'roll), Willie was also an outstanding bassist, arranger and producer. As a vocalist he was, uh, limited ... but effective. Still, the best versions of his songs were done by other people and the very best of those are collected on Willie Dixon: The Chess Box (MCA). To hear Willie do his own crooning in a variety of settings over nearly a 40-year span, get The Original Wang Dang Doodle: The Chess Recordings and More (MCA).
---
4. Junior Wells
He was Muddy's choice to replace Little Walter. What greater compliment could there be? Hoodoo Man Blues (Delmark), his first LP, features burning blues harp with Buddy Guy on guitar. For a taste of his rough and tumble early work, try 1957-66 (Paula).
---
5. Hound Dog Taylor
Forget about technical virtuosity. Taylor's playing was loud and raucous and simply made you feel good. Bruce Iglauer recorded Hound Dog as the first artist on Alligator Records in 1971 and came up with a winner right of the box with Hound Dog Taylor & the Houserockers. Several live CDs of the band -- consisting just of two guitarists and a drummer -- are out as imports on Wolf.
---
Back to the List
---
This page and all contents are &copy 1996 by Blues Access, Boulder, CO, USA.