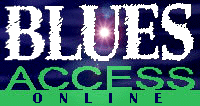 ---
The Essential Blues Album List
GENERAL ROOSTER GOTTA-HAVES/AT-LARGE CHOICES
---
1. The Soul Stirrers with Sam Cooke
Sam Cooke was way more than the handsome pop artist of the early '50s. What white folks didn't know was that he led this scintillating Chicago gospel group from 1950 to 1957. His soaring, angelic voice meshed particularly well with the torn-tonsil tones of Paul Foster. Specialty Records has released nearly all their Soul Stirrers material as part of the Legends of Gospel series. Jesus Gave Me Water focuses on the years 1951-54, with lots of alternate takes, including tracks that were originally released with unnecessary overdubs. The Last Mile of the Way is more of the same. Its two searing versions of "He's My Guide" (plus one incomplete take), with Cooke and Foster trading off spine-tingling leads, are absolute must-hears.
---
2. Clifton Chenier
The once-and-always King of Zydeco was a dancehall-wrecking dynamo for more than 40 years until diabetes felled him in 1987. He infused a blues and rock'n'roll fervor into this Creole adaptation of Cajun French dance music. A fortuitous partnership with Arhoolie records founder Chris Strachwitz in 1960 projected Clifton's music way beyond its Texas-Louisiana base. Zydeco Dynamite: The Clifton Chenier Anthology (Rhino) is a spectacular retrospective that covers 30 years of recordings on two CDs, with a generous emphasis on superbly funky singles cut for Specialty, Argo, Checker and Zynn in the '50s. Zodico Blues & Boogie (Specialty) contains most of the tracks from the excellent Bayou Blues album, with a dozen unissued alternates from this 1955 session. Clifton Sings the Blues (Arhoolie) is just what the title implies.
---
3. Blind Willie McTell
This blind rambler seemed as at home on the streetcorners of Atlanta (his adopted home), New York and Chicago as he was in their recording studios. (Check out David Fulmer's cover story in BLUES ACCESS #11.) The nonpareil blues exponent of the 12-string guitar, his classic 78s were made for Columbia, OKeh, Arc and Vocalion between 1929 and 1933, often in the company of six-string guitarist Curley Weaver. The 41 of these (including unissued alternates) that still exist are collected on The Definitive Blind Willie McTell (Columbia Legacy). His earliest work for Victor, starting in 1927 (and including the original "Statesboro Blues"), can be found on collections from Yazoo and Document, but you'll have to put up with lots of duplication with the Columbia set. Good later recordings are available on Biograph.
---
4. Earl Hooker
Yet another great bluesman from Clarksdale, Mississippi, Hooker moved to Chicago and became recognized as a guitarist to be reckoned with by the late '50s when he began an association with Mel London's Chief and Age labels. He's best remembered for bringing the wah-wah pedal into blues, but he was a drop dead player in any style. Two Bugs and a Roach (Arhoolie), from the late '60s, is his most consistent set, and the CD release also contains four tracks recorded in the early '50s in Memphis. Blue Guitar (Paula) presents 21 of the Mel London-produced Chicago sides, while the excellent 1969 release Don't Have to Worry (ABC/Bluesway) has yet to see the light of day on CD.
---
5. Robert Nighthawk
Nighthawk (nee McCollum) was a shadowy Delta legend who split for St. Louis -- and eventually Chicago -- after a shooting incident in the '30s. He first recorded in 1937 under the name Robert Lee McCoy but eventually adopted Nighthawk after his song "Prowling Nighthawk" became popular. His slashing guitar style influenced no less than Muddy Waters, Elmore James and Earl Hooker. Live on Maxwell Street (Rounder) was made on a portable tape recorder in 1964 at Chicago's famed market by Norman Dayron and kicks off with a frightening version of Pat Hare's "I'm Gonna Murder My Baby," retitled "Goin' Down to Eli's." Other recordings from this period, shortly before his death in 1967, are on the Robert NighthawkïHouston Stackhouse CD on Testament. His tracks for Chess/Aristocrat (1948-'50), except for two on the Chess Blues box set (MCA) remain in CD limbo.
---
6. Champion Jack Dupree
Dupree (whose nickname stemmed from an early boxing career) grew up in a New Orleans orphanage after his family died in a house fire, which might account for the bitterness that underlies his often humorous lyrics. He was one of the great boogie-woogie piano players in a city that knows a thing or three about that instrument. Blues from the Gutter (Atlantic) from 1958 is his acknowledged masterpiece, including a reprise of his doper anthem, "Junker Blues." The original of that one (along with "Weed Head Woman") can be found on New Orleans Barrelhouse Boogie (Columbia Legacy), a compilation of sides recorded in 1940-'41. In 1959 Dupree moved to Europe (where he made several outstanding recordings for the Danish Storyville label). But in 1990 at the age of 80, after many people had assumed he was dead, Dupree returned to New Orleans for a sparkling performance at the Jazz & Heritage Festival. He recorded Back Home in New Orleans for Bullseye Blues and followed that with two more discs before his passing in 1992.
---
7. Various Artists
Chicago/The Blues Today/Vol. 1-3 (Vanguard). This set of three discs has special significance because it turned me on to many of these great Chicago artists for the first time. Produced by Samuel Charters, this was the first serious attempt to document in overview the kind of music that was being played there in the '60s. When these were released in 1966, it was difficult -- if not impossible -- to find LPs by Jr. Wells, J.B. Hutto, Otis Spann, Otis Rush, James Cotton, Homesick James, Johnny Shines, Johnny Young and Big Walter Horton. These are still the versions I think of when I hear "Messin' With the Kid" (Wells), "Too Much Alcohol" (Hutto), "S P Blues" (Spann) or "Mr. Boweevil" (Shines and Horton).
---
8. Various Artists
Living Chicago Blues, Vol. I-IV (Alligator). The above-mentioned set inspired Bruce Iglauer to begin producing this survey of mostly lesser-known (at the time) Chicago artists in 1978. Jimmy Johnson, Eddie Shaw, Left Hand Frank, Carey Bell, Lonnie Brooks, "Big Moose" Walker, Magic Slim, Pinetop Perkins, A.C. Reed, Buddy Scott, Lovie Lee, Lacy Gibson, Sons of Blues, Detroit Junior, Queen Sylvia Embry, Big Leon Brooks, Andrew Brown and their bands are included.
---
9. Various Artists
Deep Blues: Original Motion Picture Soundtrack (Atlantic). Financed by the Eurythmics' Dave Stewart, produced by Robert Palmer and directed by Bob Mugge, the film and its soundtrack CD were the first exposure for most folks outside Mississippi to the talents of R.L. Burnside, Jr. Kimbrough, "Booba" Barnes, Big Jack Johnson, Frank Frost, Jessie Mae Hemphill, Lonnie Pitchford, Jack Owens and Bud Spires. Not to mention the great cover shot taken outside Boss Hog's barbeque joint in Clarksdale.
---
10. Various Artists
Sun Records: The Blues Years 1950-1956 (Charly R&B, UK). Sam Phillips' Sun Records in Memphis is justly famous for recording the first sides on Elvis Presley. But before the ascension of the King, Sam had already assembled an impressive roster of blues and hillbilly artists. Joe Hill Louis, Howlin' Wolf, Walter Horton, Jackie Brenston, Honeyboy Edwards, Little Milton, Earl Hooker, Pat Hare, James Cotton and Little Junior Parker are just a few of the musicians represented on the 150 grungy tracks that make up this fantastic multi-disc set. A fascinating booklet of essays, bios, discographies, interviews and photographs comes with it.
---
Back to the List
---
This page and all contents are &copy 1996 by Blues Access, Boulder, CO, USA.