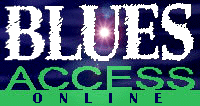 ---
The Essential Blues Album List
A DOZEN ESSENTIAL GUITARISTS
---
1. B.B. King.
Well, really, who else? The Master has knocked 'em dead from the Delta to Las Vegas for going on 50 years. To most casual (and some not-so-casual) listeners B.B. is the blues. The four-CD box King of the Blues (MCA) covers virtually every era of his career; it's the place to go if you're looking for an all-in-one package. Most people will tell you that Live at the Regal (MCA) is his best live album, but don't believe 'em. Good as Regal is, suss out the harder to find Blues Is King, an incendiary performance captured at a Chicago club in 1966. The Best of B.B. King Volume 1 (Flair/Virgin) contains lots of early material not on the box set. From there you're on your own, but it's pretty hard to miss with B.B..
---
2.Albert King
Big Albert's stinging left-handed guitar leads, often drenched with sustain, are unmistakable. Live Wire/Blues Power (Stax, also Mobile Fidelity), a superb show from the Fillmore West in 1968, is one of our ultimate desert island discs. His powerful Stax recordings from the '60s shaped the sound of players across the blues-rock spectrum. King of the Blues Guitar (Atlantic) covers most his crucial material for that label, but it may be out of print. If so, go for Born Under a Bad Sign (Mobile Fidelity). The Ultimate Collection samples a good chunk of his career on two CDs, but to hear his early Bobbin/King sides you'll have to dig for Let's Have a Natural Ball (Modern Blues Recordings).
---
3. Aaron "T-Bone" Walker
Practically every guitarist on this list has claimed T-Bone as an influence. The definitive showman on stage, his lean, biting licks could swing with the best or get way down, as on his legendary "Stormy Monday Blues." T-Bone Blues (Atlantic Jazz) sounds like it was recorded yesterday and contains versions of some of his best-known tunes. The Complete Imperial Recordings (1950-54) (EMI) and The Complete Capitol/Black & White Recordings are more rooted in the swing era.
---
4. Albert Collins
Albert's piercing style marked him as a true Texas original. As of yet, no lifetime overview set has been released. So we'll have to settle on Ice Pickin' (Alligator) as the signature of his later work and Truckin' With Albert Collins (MCA) -- which includes the original version of "Frosty" -- for his classic early '60s dates. Of course Showdown, with proteges Robert Cray and Johnny Copeland getting equal time, is a brilliant release that proved the selection committee for the Grammys can occasionally do something right.
---
5. Freddie (Freddy) King
These days the big Texan is best known for his '70s recordings for Shelter that were produced by Leon Russell and occasionally counted Eric Clapton among the contributors. The really choice stuff, though, was recorded for King Records in the '50s and '60s. Hide Away: The Best of Freddy King (Rhino) lives up to its name, serving up 17 tough tracks from that era. Just Pickin' (Modern Blues Recordings) combines two beautifully remastered instrumental albums from the same period.
---
6. Otis Rush
An impassioned guitarist and singer, his songs -- like "Double Trouble," "Mean Old World" and "All Your Love (I Miss Lovin')" -- were staples of many a '60s rock band. Cold Day in Hell (Delmark) is probably his best studio release. His chilling early work is on The Cobra Records Story (Capricorn), along with several other fine artists like Buddy Guy and Magic Sam, and Blues Interaction (Castle Communications) is a great live performance.
---
7.Buddy Guy
When we originally put this list together in the late '80s, Buddy had gone seven or eight years without recording a new album, something we perceived as a near-criminal oversight by U.S. record labels. Since then, of course, he's had several big-selling CDs on Silvertone, all of them high quality stuff. But for sheer ferocity we'll still stick with the disc we picked back then: Stone Crazy (Alligator). The Very Best of Buddy Guy (Rhino) is a thumbnail career retrospective (up to 1982) on one disc that might lead you in some other directions.
---
8. Magic Sam
Sam Maghett was a slashing, prototypical Chicago electric guitarist who was just starting to make his mark when he died suddenly in 1969 at the age of 32. West Side Soul and Black Magic (both on Delmark) are the places to start, but his early sides are well worth checking out on The Cobra Records Story (Capricorn).
---
9. Elmore James
His unforgettable slashing slide guitar brought the Robert Johnson sound up the Mississippi and into the age of electricity. A few years back we tried to sort out the mishmash of seemingly endless repackagings of Elmore's work. The bulk of his recordings were released on the Bihari brothers of Los Angeles' Modern, Meteor and Flair labels or New Yorker Bobby Robinson's Fire, Fury and Enjoy labels. The key sides of those early '50s Modern releases are on Let's Cut It: The Very Best of Elmore James (Flair/Virgin). Robinson's '60s recordings are detailed on the two-disc King of the Slide Guitar (Capricorn). The Sky Is Crying: The History of Elmore James takes the wideband approach, drawing from both these and other catalogs.
---
10. Gatemouth Brown
Gate goes out of his way to emphasize that he is not a blues artist. But that's just because he doesn't want to distract attention from his jazz, country swing and Texas-Louisiana gumbo stylings. To hear him play it straight and nasty, you'll have to snoop out The Original Peacock Recordings (Rounder), which is not out on CD to the best of our knowledge. Otherwise, all his Rounder and Alligator releases are of high quality.
---
11. Guitar Slim
This hard-drinking Louisianan (nee Eddie Jones) was a wildman on stage. Slim died young but he was profound influence on guitarists from Buddy Guy to Jimi Hendrix. Sufferin' Mind (Specialty) goes right to the heart of the matter with killer tracks from 1953-55, including his giant R&B smash, "The Things That I Used to Do."
---
12. Johnny "Clyde" Copeland
Houston's blues ambassador to the world is a relative latecomer in terms of national recognition. He's an excellent composer and incredibly soulful singer with a singular guitar style. Two Rounder CD compilations qualify as gotta haves: Texas Twister and When the Rain Starts Fallin'. Some of his most brilliant work is on Bringing It All Back Home (Rounder), an LP inspired by his State Department sponsored trip to Africa. A few tracks from it appear on the CDs.
---
Back to the List
---
This page and all contents are &copy 1996 by Blues Access, Boulder, CO, USA.