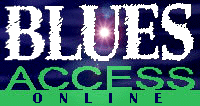 ---
The Essential Blues Album List
ESSENTIAL HARMONICAS
---
1. Little Walter Jacobs
A pioneer of the electrified blues harp as well as a fine singer, Walter was a mainstay of the Muddy Waters band for years. The popularity of the song "Juke" led to a solo career, but undisciplined habits resulted in his early death. He was featured extensively as a sideman on dozens of recordings by Chicago's legendary Chess Records. The Essential Little Walter (MCA) -- reviewed in BLUES ACCESS #25 -- gives you a healthy taste of what he's all about.
---
2. Sonny Boy Williamson #2
A strikingly individualistic musician, Sonny Boy (Rice Miller) was just about as influential as Little Walter. In his declining years he spent much of his time in Europe and even played with the Yardbirds. He is perhaps best remembered for his long stint on KFFA's "King Biscuit Time" radio show in Helena, Arkansas. The Essential ... (MCA) gathers his best-known Chess recordings in one place, but King Biscuit Time (Arhoolie), with many of his singles for the Trumpet label, is also strong.
---
3. Big Walter "Shakey" Horton
Here's yet another harp giant who played on many Chicago recordings -- mostly other people's -- in the 1950s and '60s. Chicago/The Blues/Today, Vol. 3 (Vanguard) finds him backing Johnny Young and Johnny Shines and as a leader on one track. His unamplified Memphis recordings on Mouth Harp Maestro (Flair/Virgin) are also worth checking out.
---
4. James Cotton
James' voice is a bit ragged these days, but he's still a fine showman. He's played with everyone on the Chicago scene. High Compression (Alligator) from 1984 is still our favorite, but if you can find a copy of the 100% Cotton (One Way) LP you're in for a treat.
---
5. Charlie Musselwhite
One of the youngest musicians on this list, Charlie has definitely been there and back, rewriting the way his instrument is played in the process. In My Time (Alligator) is the crowning point of his recorded career. Stand Back! Here Comes Charlie Musselwhite's South Side Blues Band (Vanguard), his first album from 1967, has wonderful energy and provides a snapshot from an earlier blues boom.
---
Back to the List
---
This page and all contents are &copy 1996 by Blues Access, Boulder, CO, USA.