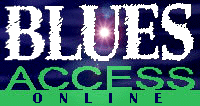 ---
The Essential Blues Album List
ESSENTIAL PIANOS
---
1. Memphis Slim
Peter Chatman was a deep-voiced singer who wrote and recorded hundreds of songs -- and dozens of albums -- before his death in Paris in early 1988. The self-titled Memphis Slim (MCA) contains recordings he made in the early '50s for Premium (including his classic "Mother Earth") that were bought by Chess and released in 1961. His '50s recordings with Matt "Guitar" Murphy are also gems, but hard to find on CD.
---
2. Otis Spann
A brilliant player and emotional singer, his work with Muddy Waters in the '50s and'60s set the standard against which all Chicago blues must be judged. For recordings with Spann as a leader, we recommend Otis Spann's Chicago Blues (Testament) with an all-star Chicago cast.
---
3. Sunnyland Slim
When Slim (Albert Luandrew) passed away recently it marked the end of a prolific recording career that began in 1946. Even in his 80s, this Mississippi-born Chicagoan never lost his sparkle. Try Be Careful How You Vote (Earwig), recorded in 1981 when he was a youthful 74 years of age, for some later-era Slim. House Rent Party (Delmark) features some of his classic early sides.
---
4. Roosevelt Sykes
Hailed as one of the most important bluesmen of all time, this St. Louis native spent 54 durable years in music until his death in 1983. Blues by Roosevelt "The Honeydripper" Sykes (Smithsonian/Folkways) is a nice set from 1961 that contains his classic "44 Blues." Check out his discs on Delmark for other '60s sides.
---
5. Professor Longhair
A true original, Fess (Henry Roeland Byrd) fused blues , R&B and rhumba rhythms (and a healthy dose of good humor) into the sound that propelled the great rhythm and blues/rock'n'roll awakening of the '50s and '60s in New Orleans -- a city where his name is revered to this day. The two-disc Professor Longhair Anthology (Rhino) presents the best overview of his career.
---
Back to the List
---
This page and all contents are &copy 1996 by Blues Access, Boulder, CO, USA.